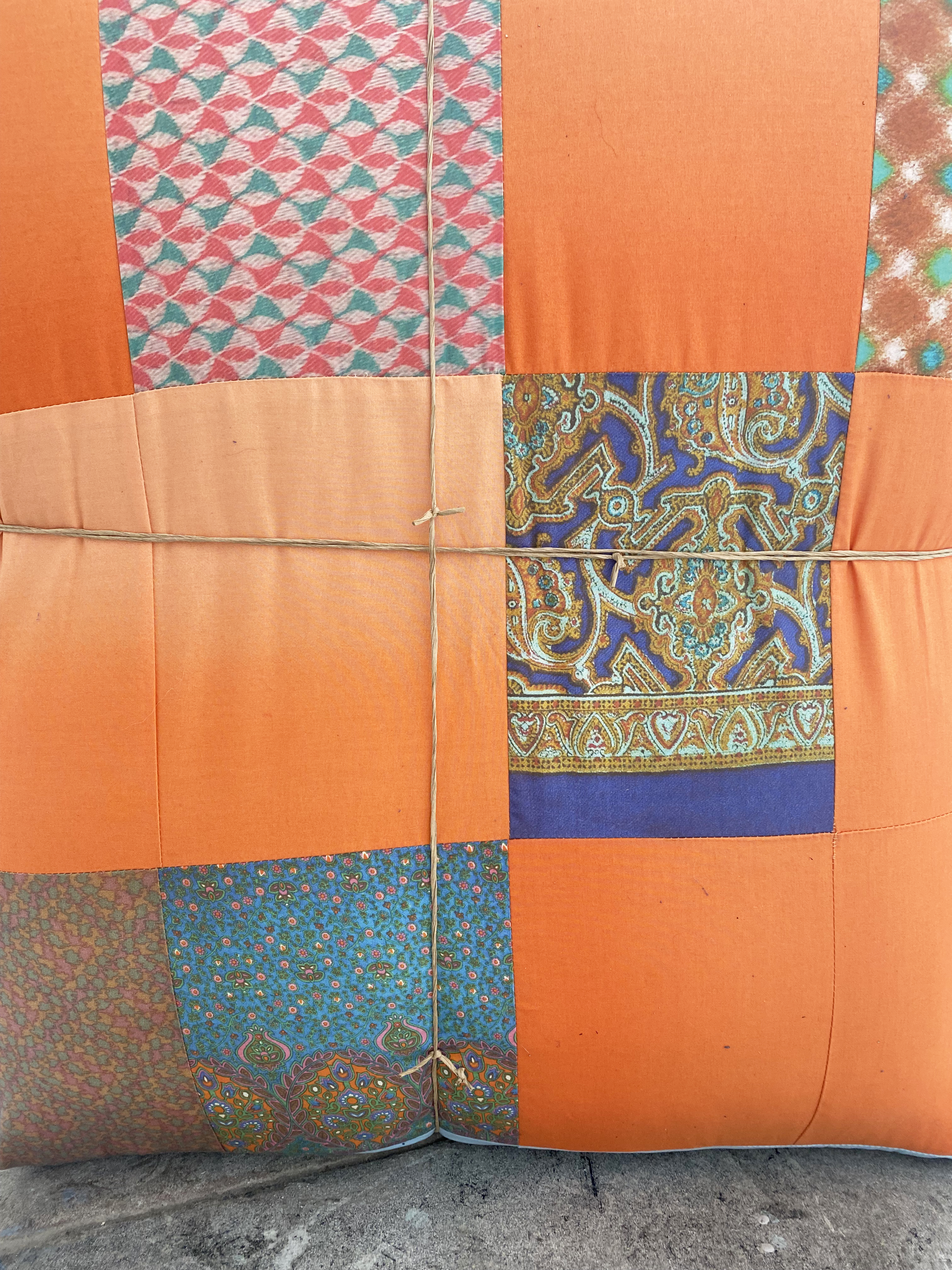 Mattress series

2022

This series of sculptural works references both the mats that are often laid out on the floor in refugee centers, and the mats that were used in primary schools at nap time in communist Poland. The work is informed by my personal history as a child refugee and my experience as a member of a diaspora. The mattress-like works are covered in textiles that are sewn together using vintage patterns and digitally printed fabrics.

In their form and scale, these works directly reference the body, with other associations that can change depending on the works' placement. They can evoke precarity, preparedness, a disembodied domestic space – and also be a place of rest. I have started experimenting with the rectangular, mattress-like forms by grouping them and positioning them into awkward shapes using armatures and twine. I also have a large catalog of imagery and patterns that I intend to use in future works for this series, along with screen-printed elements and material sourced at flea markets.

From left to right, top:


Nostalgia
2022. Upholstery foam, digitally printed cotton and polyester
36 x 70 x 3.5"
(91 x 178 x 9cm)

Polyester
2022. Upholstery foam, vintage polyester scarves, printed cotton. 30 x 70 x 2"
(76 x 178 x 5cm)
Orange Crush
2022. Upholstery foam, digitally printed and quilting cotton
28 x 33 x 10" (71 x 84 x 25cm)

Untitled (Bedsheet)
202. Upholstery foam, bed sheet, digitally printed cotton. 36 x 70 x 3.5" (91 x 178 x 9cm)

See Through Series

Translucent, digitally printed textile collages. Inspired by domestic linens, this work combines archival and catalog imagery from 1970s occupied Poland with references to American quilting patterns and traditions.
Left to Right from top:

Untitled (Quilt Top). 2022. Cotton. 100 x 105" (254 x 267cm)

Bed Quilt. 2022. Cotton. 49 x 68". (124 x 173cm)

Zofia Rydet Panel. 2022. Cotton and Polyester. 50 x 77" (127 x 196cm)

Bars Quilt Top. 2022. Cotton. Approx 40 x 70" (100 x 170cm)

Butterfly. 2022 Cotton and cotton blend. 47 x 69" (120 x 175cm)

Pot Holder Double. 2022. Cotton blend. 31 x 44" (79 x 112cm)
Velvet Tapestries

2018-2022


An ongoing series of collage wall hangings. The large scale works are mashups of icons, relics, domestic references, shapes and product photograph y from 1970s communist Poland. Constructed using a mix of digital and screen-printing, velvet, upholstery fabric, and felt held together using sewing, embroidery, and pins.
Photographic Pictures
2021.

Digitally printed cotton blend, wool felt, velvet. Approx 20 x 24" (50 x 61cm)
Pictures 2
2021.

Digitally printed cotton blend, wool felt, velvet.

Approx 20 x 24" (50 x 61cm)

Untitled (Apricots).
2021. Upholstery weight fabric, craft felt, wool felt, velvet. Approx 30 x 48" (76 x 122cm)
Fires Patchwork 2
2022. Velvet, craft felt.
54 x 84" (137 x 213cm)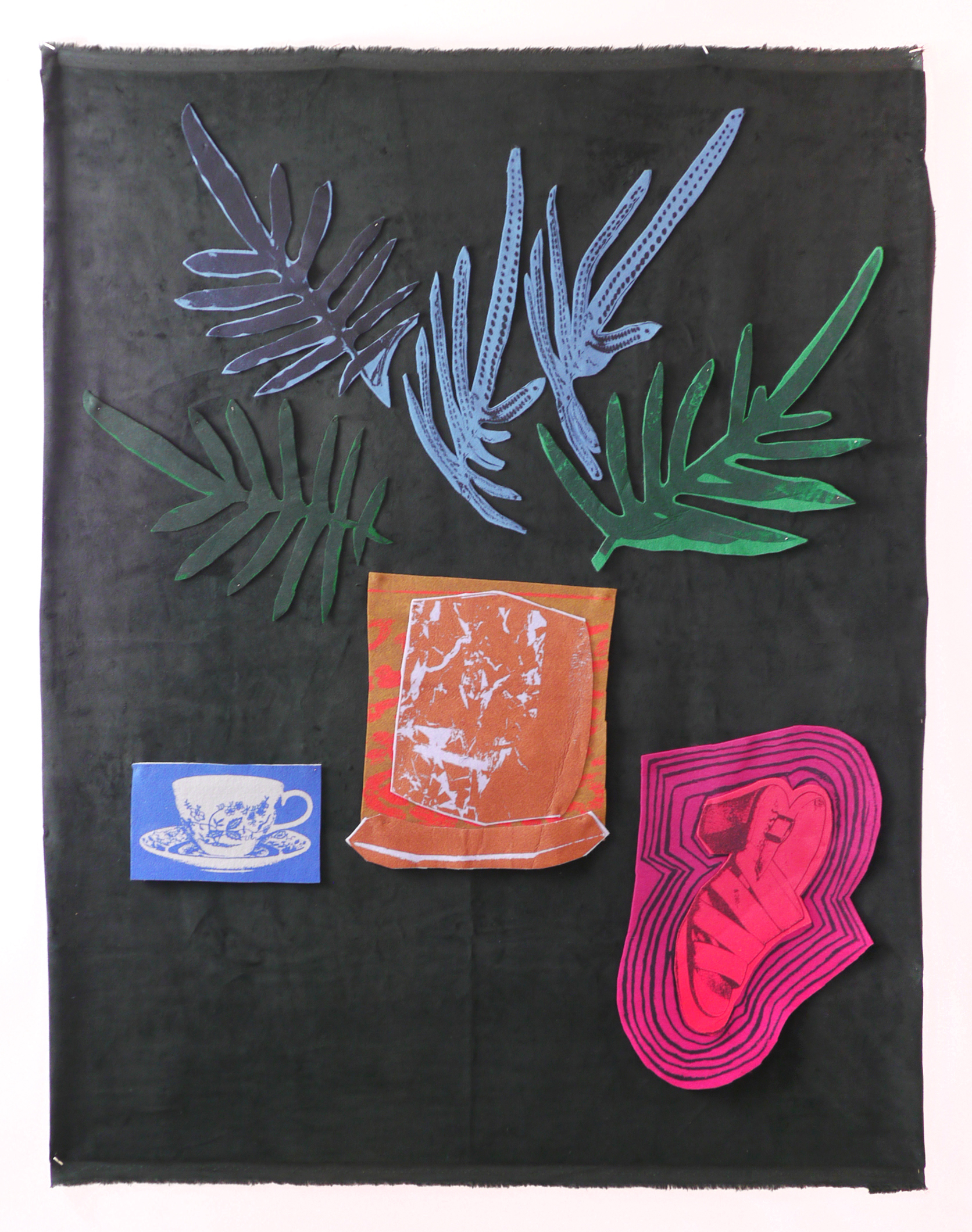 Polyester Dream
2018. Velvet, wool felt, craft felt. Approx 48 X 60' (122 x 152cm)
Untitled (Planter)
2018. Velvet, wool felt, craft felt. Approx 48 X 60' (122 x 152cm)
Untitled (Joan Collins)
2018. Velvet, wool felt, craft felt. Approx 48 X 60' (122 x 152cm)
Diamonds
2021. Velvet, craft felt.
Approx 4 X 6' (122 x 186cm)

Shopping (Kim K)
2018. Upholstery weight wool, craft felt, pins. Approx 4 X 5'
(122 x 152cm)
Remnant
2018. Velvet, craft felt.
Approx 20 x 24" (50 x 61cm)
Select Studio Work

2015-2023
Magic Mountain (dreams)
2023. Screen-printed craft felt. Approx 48 X 60' (122 x 152cm)
Haircut Quilt top
2021. Cotton and craft felt applique. 51 x 51" (130 x 130cm)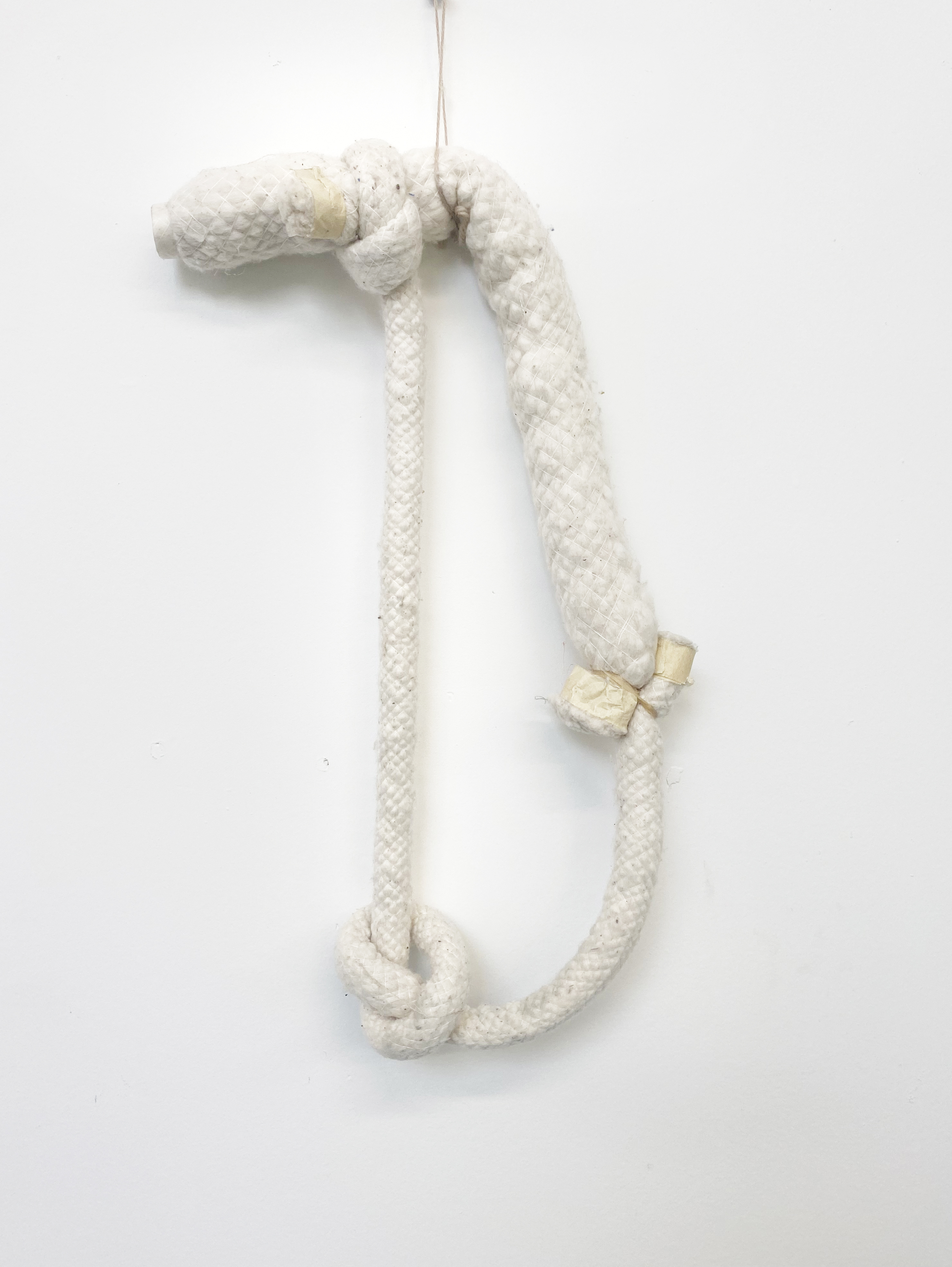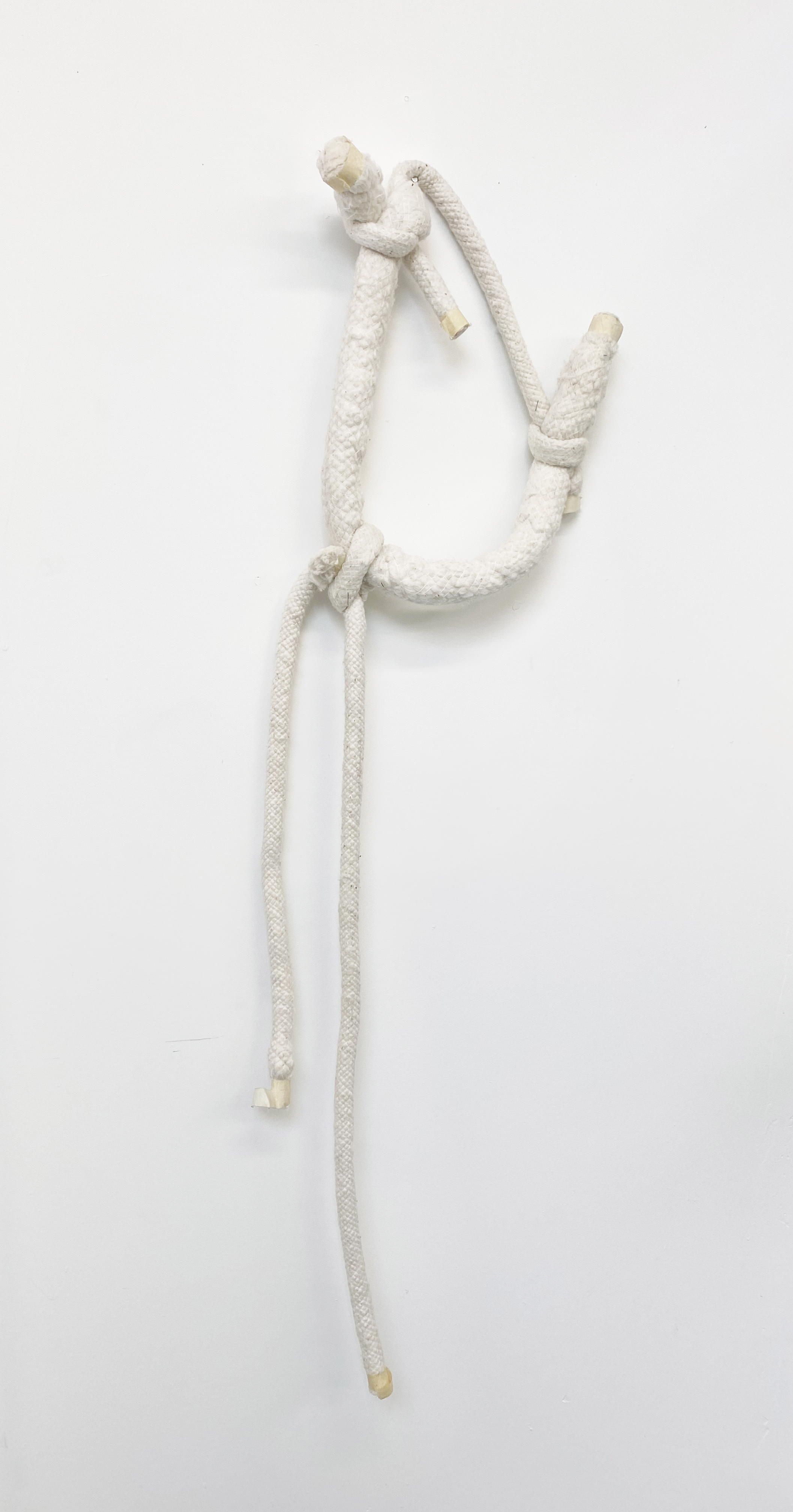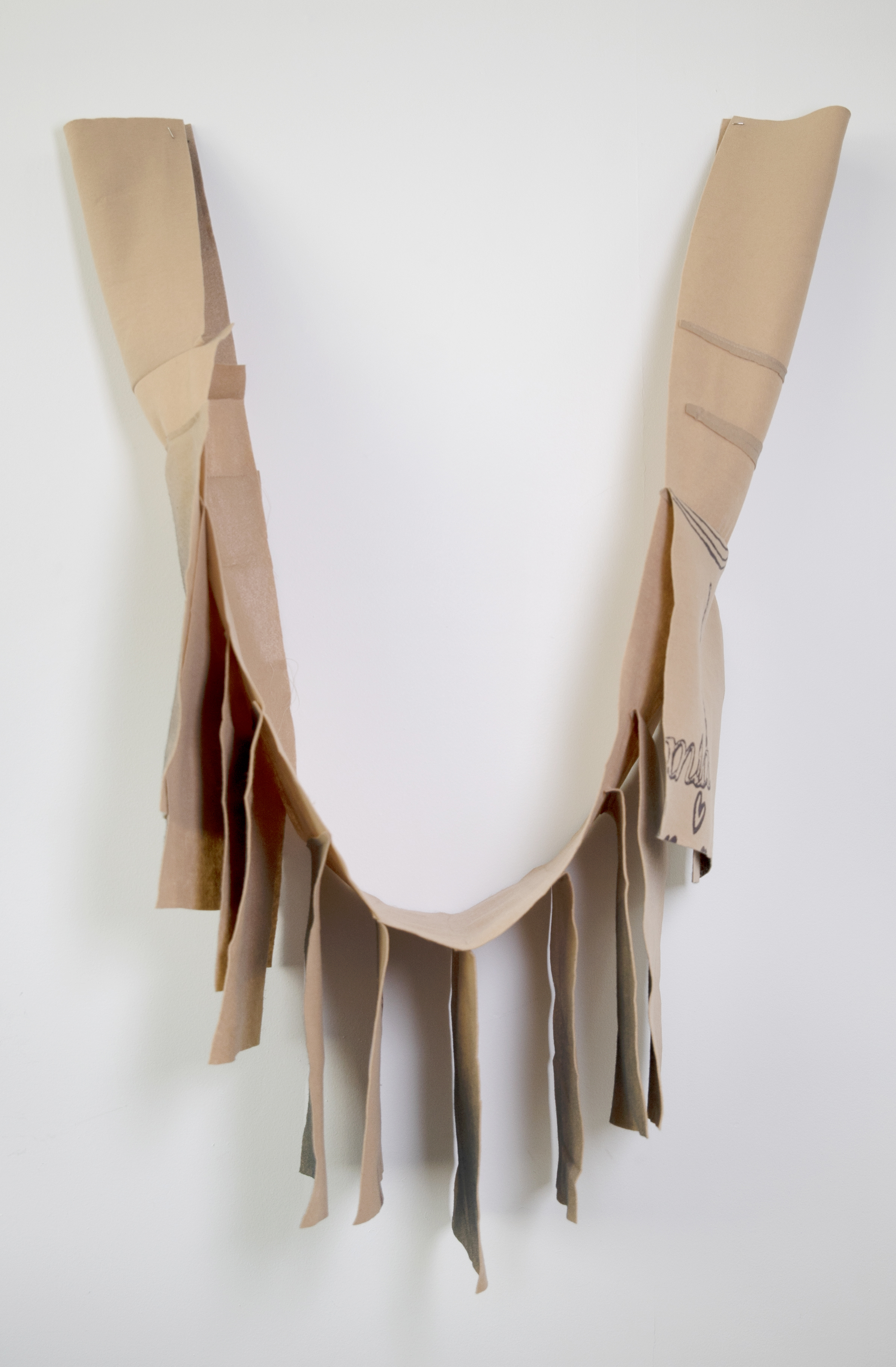 Knot 2
2022. Cotton, wire, tape. Approx 12 x 16" (30 x 40cm)

Knot 3
2022. Cotton, wire, tape. Approx 12 x 20" (30 x 50cm)

Untitled (Stories)
2019. Screen-printed craft felt, thread. Approx 20 x 30" (50 x 76cm)

UntItled (Blue Onion Plate)
2018. Wool felt. Approx 12 x 12" (30 x 30cm)
Miedzy Nami (Between Us)
2016. Polyester fabric. 10 x 30' (305 x 915cm)
> see description
Portal
2016. Synthetic upholstery fabric, cotton.
50 x 30" (127 x 76cm)
Consider the Difference.
2015. Cotton and Synthetic thread.
12 x 26.5" (30 x 67cm)


Wink
2016. Synthetic Fur and Human Hair. Approx 20 x 36" (50 x 92cm)
Etsy
2015. Cotton and synthetic thread, cotton jersey. 76 x 27" (193 x 69cm)

Dishcloth (Shirt Sleeve)
2015. Cotton. 12 x 16" (30 x 42cm)